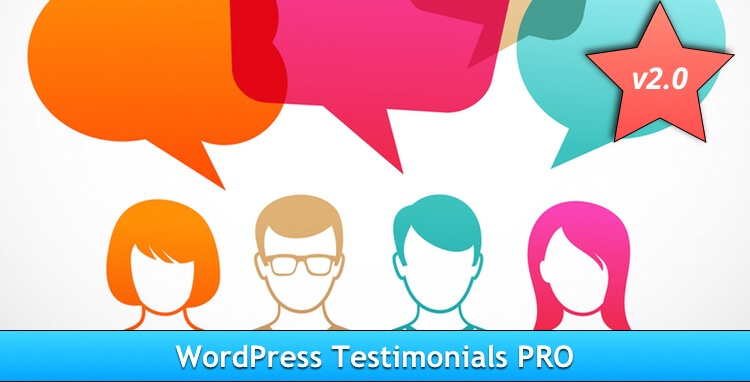 It's amazing to see that my first published plugin has done so well overall. The testimonial plugin market is, for the most part, saturated, but my little plugin carved a nice spot. Today, I'm happy to announce version 2.0. This is a complete rewrite of BNE Testimonials Pro. More efficient code, more options, and easier customizations. With version 2.0 a few important notes should be made.
Shortcodes: [bne_testimonials_list] and [bne_testimonials_slider] has been depreciated and replaced with a single shortcode, [bne_testimonials]. This was mostly done to remove redundancy but to make it easier to maintain and extend in the future. v1.x shortcodes will still remain available for now, but you are encourage to update them to the new version.
Widgets: The slider and list widgets have been replaced as well with a new single widget. Again, the old ones are still available if you are currently using them, but you should replace them with the new version.
Filters/Hook: Many developer filters have been depreciated and will not work with v2.x shortcodes. They will continue to still work with v1.x shortcodes and v1.x widgets.
In addition to the above, the following are new features in v2.0:
A new admin page has been added to create testimonial shortcodes (Shortcode Generator). This will make it much easier to customize the appearance and configure the output. No need to remember what codes are needed. By turning it into a post type, your shortcode designs are stored and can easily be retrieved. In addition, the new testimonial widget will use these published testimonial shortcodes.
Themes. In addition to the default style of v1.x, you have Simple which removes all styles, Bubble, which places the testimonial message in a "bubble", and Cards which styles both ares of the testimonial.
You can now style the message text and background colors, and author text and background colors. The background areas are most effective with the new Bubble and Cards themes, but will work just fine with simple and default with a few extra css such as padding rules.
Ratings. You can now add star ratings to each testimonial — works in v1.x shortcodes as well.
Schema markup. Schema is an effective tool to help with online search and SEO. The markup is in place and will correctly validate with Google. However, it is up to the search engines to properly display the ratings in search when appropriate.
New Theme Examples:
Simple Theme
The Simple theme looks just like the default theme without any frame, border, background, and box-shadow styles. So this theme works great where your page is a non-white background or you need to easily change the text color.
Bubble Theme
The Bubble theme styles the message area with a "chat bubble" use the new message_bg_color option to change the color of the bubble and arrow.
Cards "horizontal" Theme
The Cards horizontal is the same as Cards vertical, just in a different direction. Both sides are styled and can be changed with any color value.
Cards "vertical" Theme
The Cards vertical is the same as Cards horizontal, just in a different direction. Both sides are styled and can be changed with any color value.
We really hope you enjoy this update and look forward to any feedback. Check out the new demo and support docs. Don't have BNE Testimonials Pro? Purchase it here.